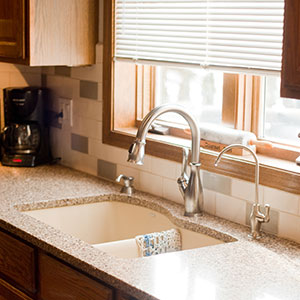 A stopped up sink, leaky toilet or cold shower can throw off your normal routine like none other.
Fortunately, Rapid Plumbing & Drain Service proudly offers full service residential plumbing repairs and service work for your home. From leaky faucets to full bath or kitchen remodeling, we can handle any and all of your plumbing needs.
Using state-of-the-art equipment, our master plumbers and trained technicians will diagnose your issue, explain your options and fix your problem — delivering customer service and quality workmanship for a fair price. You are under no obligation and there are no fees for us to come to most areas.
Don't have time to have the work done right away? No problem, Rapid Plumbing will be happy to return at a time that works best for your busy schedule.
The services we provide include installation and repairs for faucets, drains, sinks, toilets, water heaters and more. Additionally, we perform video pipe inspections, line locating, hydro-jetting, septic tank pumping and room remodeling.
For more information about residential plumbing services from Rapid Plumbing, please contact us here or call us directly at 800.937.5667.