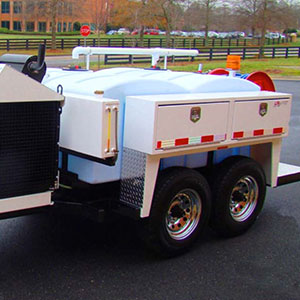 A clogged pipe often causes annoying and time-consuming backups resulting in costly damage to your property. To remove your clog correctly, our plumbing experts use hydro-jetting — the best method available for clearing out the cause of the backup and preventing future issues.
Hydro-jetting uses extremely pressurized water to cut through obstructions and clear debris down to the surface of the pipe. Traditional cable machines simply cut a hole through the debris or clog, allowing liquids to temporarily pass through. Hydro-jetters clear all debris and buildup inside the pipe — all the way down to the original surface. This keeps liquids flowing smoothly and helps your pipes remain clog-free longer.
Our state-of-the-art drain cleaning processes guarantee the results you want. While other companies rely on inexpensive and less effective cable machines, Rapid Plumbing's hydro-jet machine cleans your pipes down to the bare surface — leaving them as good as new.
For more information about hydro-jet drain cleaning from Rapid Plumbing, please contact us here or call us directly at 800.937.5667.