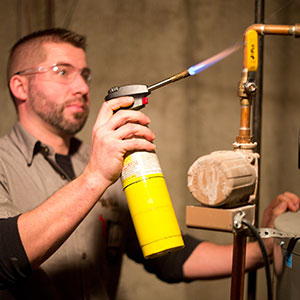 Even minor plumbing issues can cost your business time, money and productivity. When our professional technicians arrive on a commercial plumbing job, they know that even the smallest plumbing issue can negatively affect owners, employees, clients and suppliers.
With 60 years of plumbing experience, Rapid Plumbing & Drain Service knows how to efficiently solve your problem and get your business moving forward again. From the tiniest leak to the full scale municipal emergency, we remain one of the few local companies who will tackle plumbing repairs of all kinds and sizes.
Our professional technicians will arrive at your business with a solution for any plumbing issue you may have, and ensure that your problem is solved the first time.
From installation and repairs, to general inspections, to remodeling and more, Rapid Plumbing remains the best choice for your job. The plumbing experts on our staff have years of experience that give them an advantage over our competitors. For high-quality service at a competitive price, nobody beats Rapid Plumbing.
For more information about commercial plumbing services from Rapid Plumbing & Drain Service, please contact us here or call us directly at 800.937.5667.