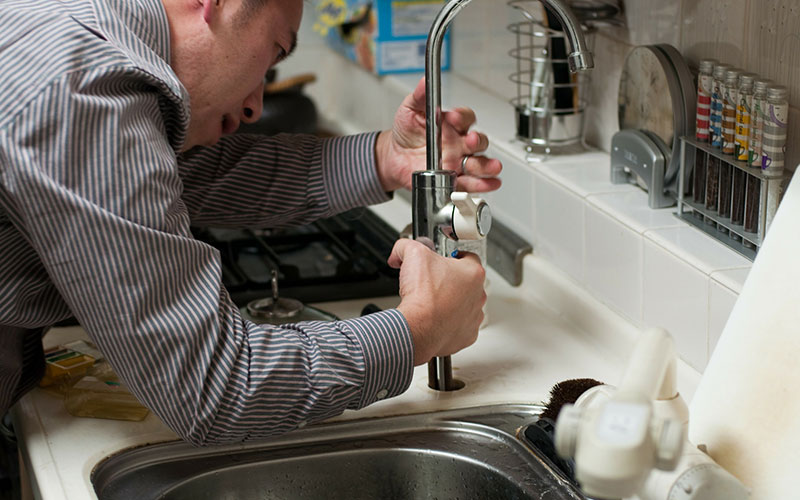 When plumbing issues emerge many people try to fix it themselves instead of calling a plumber. While you can fix small plumbing problems by yourself, stay aware of times when you need a professional plumber.
Dangerous plumbing problems arise for many reasons, requiring the expertise of a professional. Keep your family and your home safe by hiring a professional for risky plumbing situations.
Call a professional for these plumbing issues:
Lack of Hot Water:

Lack of hot water or inconsistent water temperatures usually signal a failed water heater. Because water heaters use gas and electrical systems, it's important to use a professional plumber to ensure your safety.

Low Water Pressure:

Low water pressure often signals a clogged drain. However, if you unclog and the water pressure is still low, a more serious issue may be occurring such as an eroded waterline or a fractured pipe. To avoid further damage, consider contacting a professional plumber.

Water Damage:

Signs of water damage in your home

— stains, mold or pools of water —  demand a call to a plumber immediately. The effects of water damage are dangerous for your home and your health.

Frozen Pipes:

If your pipes are frozen, you should call a plumber immediately. When thawed, frozen pipes are likely to crack or even burst. Try to prevent frozen pipes, but if they become frozen, call a plumber.

Remodeling:

Installing appliances and fixtures requires the expertise of a plumber. Trying to install fixtures without a plumber may result in extra repairs or even re-installations, ultimately costing you more money.
Know which plumbing issues require a professional plumber. Calling a plumber during these times gives you confidence in the safety of you and your home.
For more information on the 5 times to call a plumber from the experts at Rapid Plumbing & Drain Service, please contact us here or call us directly at 800.937.5667.